According to wikipedia, Cali has 249 barrios or neighborhoods. It would be impossible for me to mention all of them here, but I'll divide the city into districts and comment on the ones most relevant to you, the expat, the tourist or the curious adventurer. I'll also be listing the most dangerous barrios that you should avoid at all costs… unless you're with a local and you blend in. If you have any doubts as to whether or not you blend in, the answer is most likely that you don't. Don't take chances. Less than 10% of all crime gets investigated and even less results in any form of justice. ALL of my Caleño friends know of someone who has gotten murdered, and ALL of them have been robbed at some point in their life here. I'm an optimist and I live here. But I'm also a realist. Please be careful. Staying out of a few neighborhoods and you will avoid 99% of the stuff that gives Cali a bad reputation.
North
Most of the northern Cali is industrial. In the northeast lies the La Base Aerea, which is the Colombian Airforce. In the most northwestern part lies the entrance to Menga, which is one part heavy industry, one part nightclubs and one part fuck motels. Because of noise regulations, most nightlife in the city ends between 2:00-3:00 A.M, after which lots of partygoers swarm to Menga. In the daytime, there's nothing worth of interest. A little bit south of Menga is the residential barrio La Flora, home to PriceSmart membership shopping but that aside it's just a quiet middle-class neighborhood, favored by a lot of people working in the north. South of La Flora lies Santa Monica, which just like it's more famous name-sharing cousin in California, is a nice place to walk around and a pretty upscale area to live in. Shopping center Chipichape with 5-star hotel Spiwak, Pacific Mall, La14 Supermarket and HomeCenter dominate the vista, but the area is also becoming a gastronomic destination, with new restaurants popping up all the time and a few good watering holes like MiKasa bar.
Continuing south one arrives a Versalles, which is full of tall office and residential buildings. La Avenida 6N (known as La Sexta) runs through and hosts a variety of bars and nightclubs, although not the most interesting ones that Cali has to offer. The best one in the area that comes to mind is Zaperoco, an old-school salsa bar, one block east from La Sexta.
West of Versalles at Avenida 8N begins Granada, a funny mix of old abandoned houses, fancy restaurants, bars and hotels. Lots of buildings stand empty and for sale, but somehow this area remains one of best gastro-districts in Cali. South and west of Granada lies Centenario and Juanambu, two of the nicer residential barrios, with few attractions for the visiting foreigner, but still in walking distance to all the fun places in the western and northern part of town.
In general the the north is considered safe, although it still advised to take taxi anywhere at night, which is generally the rule all over the city.
West
Most tourists, expats and Caleños agree that western Cali is one of the most attractive parts of the city. Normandia and the first part of Aguacatal, both of which lie north of the river near the mountain with the Three Crosses, are considered attractive residential areas. Southwest of the Cali river with one of the city's landmarks, the Hotel Intercontinental, begins the neighborhood of El Peñon, which, along with the historical barrios of San Antonio and San Cayetano across the road, have become the place where most foreigners hang out. Small parks, great restaurants, a few bars, a central location, safety and walkable distances have all contributed to making them a favorite among both residents and visitors of the city.
Further west along the river begins the old-money neighborhood of Santa Teresita and Santa Rita, that stretch all the way along the river until reaching the Cali Zoo. Behind them, and further up the mountain lies Arboledas, another fancy residential barrio, recognized by the Belalcazar statue. Continuing up the road to Cristo Rey, lies Bellavista, which as the name implies, have a great view of the city from many of the high-rise apartment complexes.
I consider all of these great places to live, especially because their proximity to the best parts of the city, their safety, their silence and the cooling Pacific breeze that flows down from the mountains every afternoon.
Following the Circunvalar straight south from Bellavista, one arrives in Cristales, a residential area, that years ago was known for being a drug-lord hangout, but today is nice and quiet. In extension to Cristales lies San Fernando with Parque del Perro, another of the city's gastronomic areas, popular with students and people on a budget. This barrio continues down to Calle 5, which is one of the big north-south boulevards in Cali. Cross Calle 5 and you'll be at the soccer stadium and behind it, the Canchas Panamericas – the best sports complex in Cali.
The west is one of the safest places in Cali. Only exception is Terron Colorado which is the neighborhood following the road out of the city towards Buenaventura. I've been pulled over by the police several times on this stretch, just to have them tell me to close the windows on my car. Passing through on your way to KM18, San Cipriano or Buenaventura is a necessary evil, but no stopping is recommended.
South
Anything south of Carrera 40 is considered south, although geografically is equals the center of the city. From Carrera 40 through 80 there are few things of interest to the visitors of the city. I lived on Carrera 64, when I arrived and it was boring as could be and far away from all the fun.. except for a short strip in Carrera 66, that has some cool bars, including the southern branch or El Faro Pizzaria Bar with live music from Thursday to Saturday. That aside, the area is a mix of small businesses and residential neighborhoods.
What is my opinion is the real south, starts after Carrera 80 with El Ingenio, most famous for its massive park, which is a great spot for running and outdoors workouts. Next stop south is Ciudad Jardin, almost a different city inside the city. This is a very wealthy neighborhood with mansions, fancy restaurants, a few bars, a park, lush green avenues. It's nice to visit, a great place to live and safe – but far away from the rest of the city. Pance is the final stop going south before leaving Cali. Kind of like Ciudad Jardin, it is also very safe and quiet. A lot of the best high-schools and universities a located here and so are some of the nicest gated communities. For me, the real reason for going is the nature. Pance river and the surrounding mountains are great for cooling off, running, hiking and biking. It's one of my favorite places in the city for a day-trip, especially on weekdays where it is almost empty.
There is a massive hillside neighborhood called Siloé, reminiscent of a Brazilian favela. One could argue that this belongs to western Cali by looking at the map, but Caleños consider it to be south. I've never been and will most likely never go. Siloé is among the most dangerous places in Cali and robberies, murders and public shootings between rival gangs are commonplace there… which means every single day! How do I know? My last two maids live there and told me some god-awful stories every time I needed a reminder as of why to stay away. The police are scared to enter and when they do, the local newspaper usually reports of several dead officers. My only advice: Don't go.
East
Anything east of Autopista Simon Boulevard (calle 25) is considered the district of Aguablanca. It's covers a massive area and includes countless little barrios. Although Aguablanca counts for almost 30% of the entire city and has more than 700.000 inhabitants the entire area is a total no-go for foreigners. I've been to funk parties in Rio de Janeiro's favelas, where tattoo-covered, bare-chested teenagers, carried guns inside the club and gave drugs away to any potential client. To be honest, I felt safer there than in Aguablanca. Stay away from all eastern Cali.
The might be one exception in the east which is Juanchito, a party district similar to Menga. I've only driven through, some say it's great and safe, others say only to go with people who know the place. And some say stay away completely. With so many other options in Cali, I'd recommend that you follow that final advice. Go somewhere else.
Centro
Cali's city centre is an interesting place. It starts just east from Hotel Intercontinental, crossing Calle 5. Walking the streets around Plaza Caicedo (pictured) and you'll see big-shot bankers, shoeshiners, fruit sellers, street hustlers, daydreamers, home-less people and everything in between. If you like shopping for fake Nike shoes, then you'll be in heaven.
Five blocks south of Plaza Caicedo, you'll notice some very sketchy little alleys surrounding the main roads begin to appear. They are known as Las Ollas and are home to drug dealers, addicts, underage prostitutes and recyclers. It's incredible dangerous. A friend of mine was curious and went to check them out. Within 3 minutes he had been knocked of his bicycle and kicked several times all over his body. He escaped running for his life.
If you want an insiders perspective, I recommend reading this horrifying reportage from a local journalist who went undercover for 48 hours in Las Ollas. I'm sure it will cure your desire to go.
A few blocks northeast of the Plaza Caicedo, lies San Nicolas, the handyman's hardware store. This is where each city block has a specialty. One may deal only in wood. A second only in electronics, a third only in spare parts for plumbers.. etc. Unless you are doing construction, it's not worth a visit and some of the streets are quite dodgy.
Besides from the electronic bar, La Central, located inside hotel Aristi, Cali's city centre is not a place you should be spending any time at night.
Conclusion
Most of Cali's bad fame is gang related. Looking at the map below, you'll get a more visual image of the safe and dangerous areas in the city. Siloé to west and Aguablanca to the east clearly dominate the map.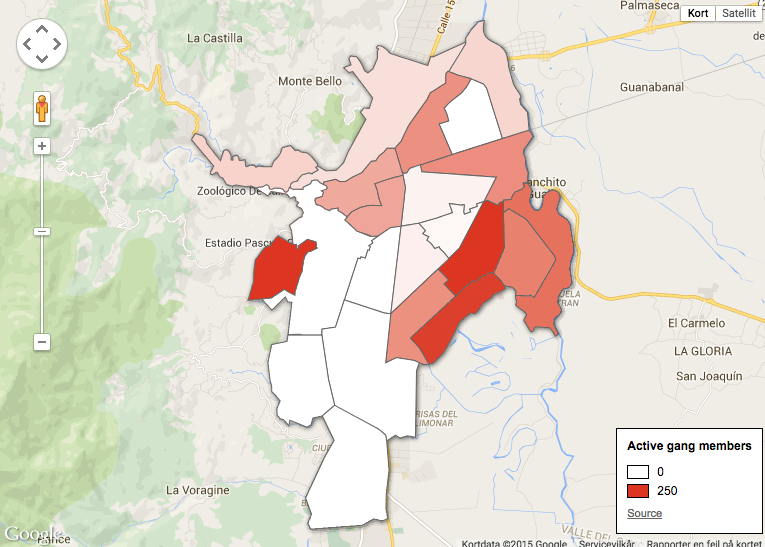 As a foreigner or even a resident, you have to realize that 30% of the city is off-limits for many people. Luckily the remaining parts offer plenty of opportunities to have fun and enjoy your time in the city. The places where you, as a foreigner, are most likely to be spending time in the north and west, and maybe Ciudad Jardin and Pance. As I mentioned in the intro, stick to the good spots and chances are you might actually finding it hard to leave this place.