Although far from central in it's location, Parque del Ingenio might be the best park Cali has to offer – especially if you lead an active lifestyle.
The park is huge by Colombian standards and features football (soccer) fields, a BMX park, running trails, several free outdoors gyms with weights, but also with bars for doing calisthenics. In the mornings and afternoons – especially on the weekends the place will be packed with people working out. People also come to do yoga, crossfit, TRX and on several occasions I have seen people hangning from the trees doing aerial silk aerobics.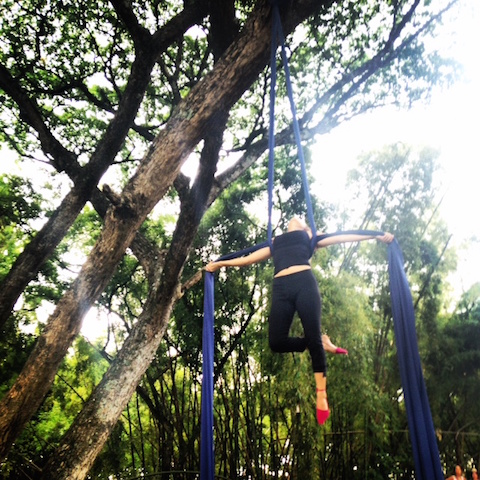 Besides the physical activities, it's also a great place to go hang out with friends and family, have a picnic and let the kids play. The park is beautiful with its large green spaces and old impressive trees. Despite the fact that two of the Cali's major boulevards run right by it, it is surprisingly quiet and the noise from the traffic has never been an issue for me. If you don't have any Caleño friends yet, here is a great place to meet them, chitchatting between sets, asking if you can join people doing yoga or the guys playing football. I'm confident that most of them would be happy to have you join them. Most Caleños are curious, outgoing people and would be thrilled to be hanging out with a foreigner.
A visit to the park wouldn't be complete with trying out one of Cali's famous "cholados". It's a glass of shaved ice with yoghurt, lulo, apple, pineapple, wafers, condensed milk and coconut. They sell them everywhere along the main strip of the park and they are great sinful way of spoiling yourself after a workout. If that's not your thing, they make awesome limonades and freshly squeezed juices as well.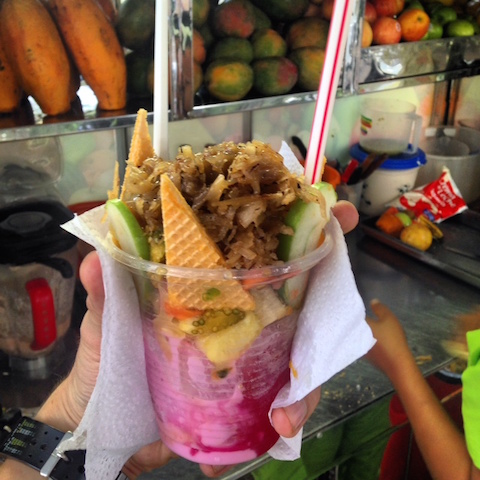 Where to find it
It is located in barrio El Ingenio on the Carrera 83 (southern Cali), stretching from Calle 13 to 25. If you don't have a car, the easiest will be to arrive in taxi. It shouldn't cost much more than $10.000 pesos (US$4) if you're coming from the northern or western parts of Cali. The MIO bus stops on a Calle 5 and you can walk or run the 8 blocks to the park.