Nestled in the jungle between Cali and Buenaventura on the Pacific coast, lies a natural reserve and tiny Garifuna village known as San Cipriano. Calling it pretty is an understatement. San Cipriano is a nature lovers paradise with a great share of cool things to do and this little oasis has quickly become one of my favorite destinations when I feel like escaping the big city.
Because San Cipriano is a natural reserve and protected by the state's environmental organization, the CVC, illegal hunting, farming, fishing, mining and foresting are almost non-existent and the beauty of the nature is very well-preserved.
The village itself consist of only a few streets and it is impossible to get lost. I usually start out by renting a tube and walking the 30-45 minutes upstream to the last river entrance called La Platina. From there you'll have a good 1-2 hours of tubing down the crystal clear river before arriving back at the village. Make sure to stop at Charco Oscuro. This is where most people set up camp and during the weekends there is a little shop that sells snacks and cold beverages. This is also the best place to climb trees and jump into the river as well as the starting point if you want to go the waterfall – a beautiful semi-technical hike through the jungle, that takes 30-45 minutes each way depending on your physical condition. Don't go by yourself unless you know how to get there. Go with a group or hire a local kid to take you. It should not cost you more than $10.000 to have him guide you and your friends.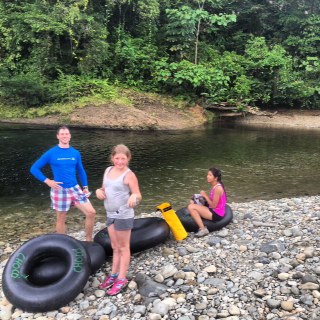 After visiting the waterfall, I usually spend the afternoon playing at Charco Oscuro or tubing back to the village for a late lunch where the local specialty is a local river shrimp called Muchillá. If the primitive way of cooking in the jungle turns you off, then try the traditional coconut sweet from the Pacific called Cocadas. Shaved coconut cooked with panela. They sell it everywhere. Or go for the coconut bread, that gets baked in the afternoon (only on weekends) in front of the football court. Both are yummi!
How to get there
If you don't have your own car, the easiest way to get San Cipriano is jumping on one of the busses that go from Cali to Buenaventura, either from the Cali bus terminal or from the Texaco gas station at La Portada al Mar which all the busses have to pass by. Busses leave from the terminal every 15 minutes and the ride should cost you around $20.000 pesos each way and take about 2 hours. Enjoy your ride, which will take you from warm Cali to the cold KM18. From there you will enter the green and lush valley of Dagua with fruit and vegetable plantations, before passing by the bare and dry mountains and eventually start descending into the jungle. The nature is stunning and it's interesting to observe the different climates you'll be exposed to in a matter of just two hours.
There are two entrances to San Cipriano. The first one, coming from Cali is called Zaragoza. Tell the bus driver to drop you off there. The other entrance is called Córdoba and lies further up the road. It only makes sense to stop there if you are arriving from Buenaventura.
From Zaragoza you will be crossing the river on a pedestrian suspension bridge before La Brujita (a fun little makeshift moto-train) will be bringing you into the jungle. If you go on a Saturday, Sunday or holiday, Las Brujitas work in corporative and you will be buying your ticket at an office before the bridge. The return ticket costs $10.000 pesos per person.
If you are going on a weekday, just cross the bridge and hire one of the Brujita drivers directly at the rails. The price is the same. Remember to tell him when to pick you up in the village again. Last shuttle service usually departs San Cipriano at 5:00 P.M.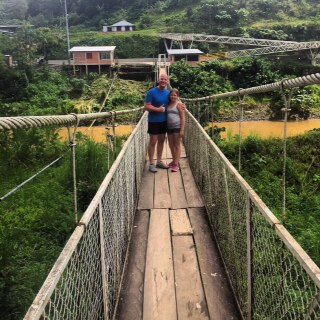 Once you get off La Brujita you follow the unpaved road into the village and hold left when the road splits. Walking for another minute and you'll arrive at the gate to the natural reserve, where you will register your name and country and pay $2.000 pesos to enter. From here there is only one trail going straight along the river and taking you by primitive hostels, restaurants and tube rental shops. A tube costs $5.000 pesos for the entire day.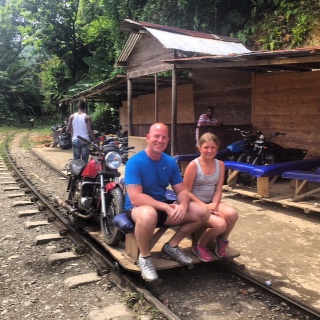 If you are going on a day trip make sure to leave Cali no later than 8:00 A.M. and preferably earlier to the make the most of you day there.
Spending the night
If you plan on spending the night, there are plenty of options to choose from, including places to pitch a tent. I've never slept there, so I can not comment on prices, but most options look very basic, bordering on primitive. Check your room before making your choice and don't expect any room service.
Tips
Carry as few items as possible, but remember to bring a bathing suit, shoes that can get wet, a dry-bag, hat and sun lotion. Unless you are spending the night I would not worry about a towel as you will dry quickly in the sun. No credit cards are accepted in the village and there are no ATM's either, so bring cash. $100.000 should be plenty for the entire day, including transportation.
If you go on a weekday you will have it all to yourself, but in the weekends it gets packed.
And please, leave nothing but your footprints in the jungle to help preserve this magical place.