A couple of hours south of Cali, near the city of Popayán, lies the Puracé volcano national park. Very few people come here, making it even more attractive for someone looking to get off the beaten path. It is like stepping into a different world… or a least a world that you might not expect to find in Colombia.
The rim of the volcano lies at an altitude of 4646 meters (15.256 ft). The village is probably a good 1000 meters below that. Upon reaching this altitude, you'll notice that the vegetation becomes different. Nothing like the lush and tall jungle that surrounds Cali. Here, the cold climate, thin air, rocky landscape, known as el páramo to the Colombians, is a barren wasteland similar to the Russian tundra.
It's been almost 40 years since the last eruption of the volcano. I'm no geologist, but I dare say, that I'm sure you'll be fine.
Halfway up to the rim from the village, a sulfate mine operates 24 hours a day, providing a much-needed income to the indigenous people.
If you plan to go all the way to the top it is preferable to go either by 4×4, mountain bike (gotta bring your own) or foot… the last part, which we, unfortunately, did not get to see due to time constraints, is a 1-hour hike to the rim each way. If you are lucky enough to get a clear sky, at least for a moment, you will be blessed with some absolutely gorgeous views and a photo opportunity lies at every bend.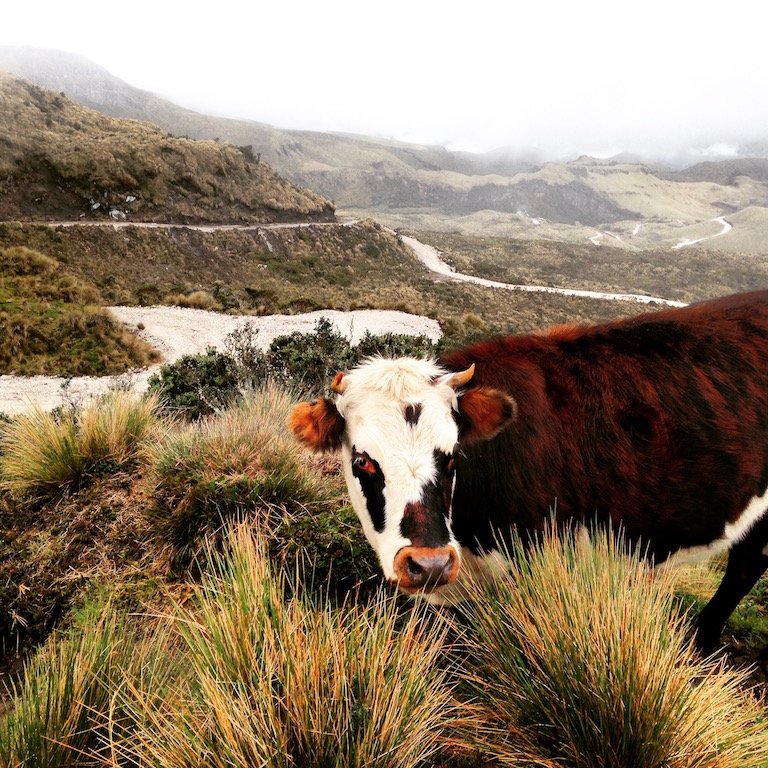 To enter the national park, you will need permission from the locals. What it means is that you have to hire a guide. We hired an older gentleman in the village for $10.000 pesos per person. He stayed with us all day and his wife sold us breakfast and lunch. He had plenty of stories about the surrounding nature, natural medicines used by the indigenous people, the volcano, the condors, the secret places to stop for a photo, etc. All in all, it money well-spent.
Andean condor
Although hiking or driving the volcano is awesome, the star attraction of the national park is its Andean condor population. The canyon below the volcano, near the Puracé village, is home to 3 Andean condors – vultures – and the largest flying birds in the world by a combination of weight and wingspan which can reach 3.5 meters (10 ft, 1o inches). They have a lifespan of over 70 years and nest at elevations of up to 5,000 m (16,000 ft), generally on inaccessible rock ledges.
According to my friend, who is an avid amateur ornithologist, there are only about 600 condors left in the wild today, 60 of which live in Colombia. The rest are spread over the Andes Mountains of Ecuador, Peru, Bolivia, Argentina, and Chile, with the largest population being in the Colca Canyon, Peru.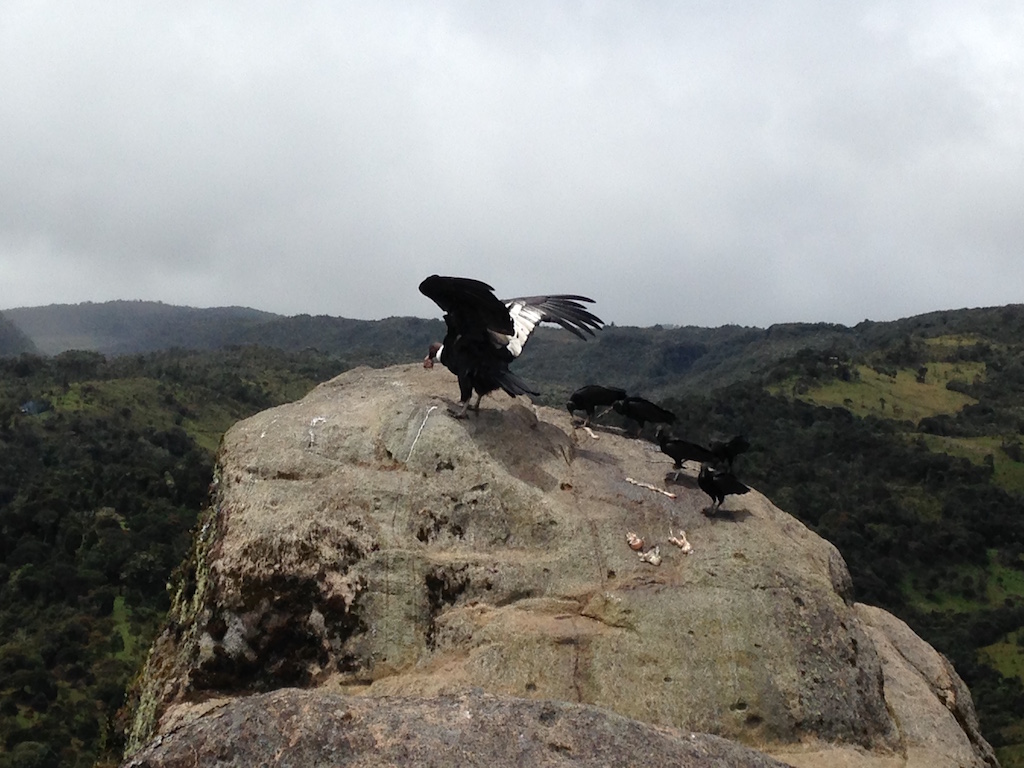 The condor is primarily a scavenger, feeding on carrion. It prefers large carcasses, such as those of deer or cattle. To attract the bird, we brought smelly, semi-rotten, tripe from the Alameda market with us. We carried it in a styrofoam box strapped to the bike rack of our car. Our guide took scattering the tripe on a big stone, known as the condor's rock. Immediately a couple of crows picked up the scent and arrived for the feast. After waiting about 15 minutes patiently, quietly, a female condor arrived on the sky. It scouted for a few minutes before landing on the rock right in front of us and began to devour the meal served. Occasionally it would take off with a big intestine only to return minutes later to pick up a new piece. Then she disappeared… We waited for about half an hour and then the male (there are one male and two females according to our guide in the canyon) – the biggest of the three – arrived. All the smaller crows immediately vanished to allow this enormous bird to eat in peace. Every time he took off, our guide would re-supply the rotten meat on the rock to make sure he returned.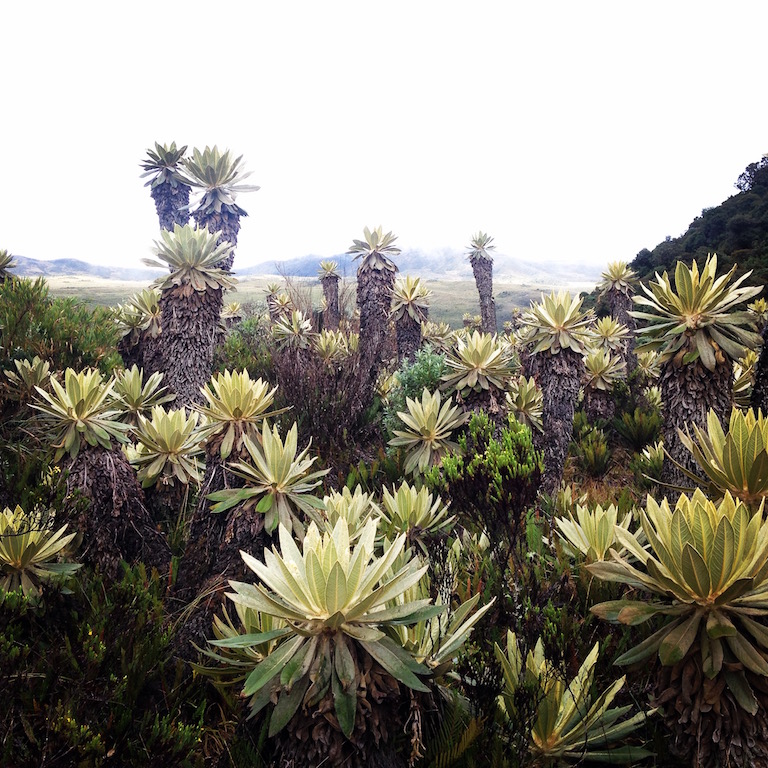 We ended up spending a good 2 hours with the condors before heading down the road to see the Frailejón forest and waterfalls, before getting back on the road to Cali. This, along with San Cipriano, is in my opinion, one of the best day trips you can do from Cali.
What to bring
If you plan to spend several days in Puracé and you don't have a car, pack no more than you can comfortably carry for hours on your back without complaining. Aside for the essentials, here's what I'd recommend that you bring:
Binoculars – for spotting condors.
Camera.
Warm clothes. It gets below zero degrees celsius at night (That's freezing for you Fahrenheit'ers).
Rain jacket – it rains a lot.
Good boots – preferably waterproof. The terrain is moist and several areas were quite swampy.
Sunscreen/hat. Although cold, the UV radiation is very high.
Cash – the nearest credit card machine or ATM is in Popayán. And preferably small bills. 5.000 pesos on the volcano is a lot of money. A total of $2-300.000 pesos should be enough for a few days to cover food, guide, busses and a place to sleep.
If you want to lure out the Condor, it is advisable to bring some half-rotten meat of some sort. We brought fairly large styrofoam box full of decomposing cow tripe. The smell was horrendous, but it was worth every stinky second the minute the condor appeared.
How to get there
To be honest, I have no idea. I was fortunate enough to get invited by a friend who knew how to arrive, which guide to contact, etc. We even called in advance to make sure the weather was good. But, that shouldn't keep you from going. If you plan to make it a one-day trip, then leave early. We drove from Cali around 5 AM and got back at 8 PM.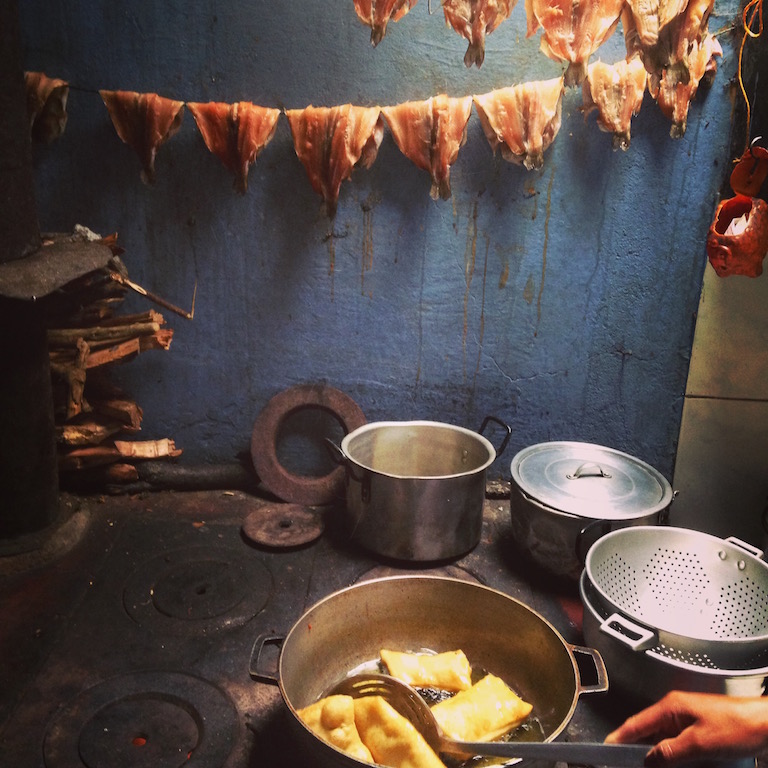 If you have your own car, then simply type "Puracé" into the GPS app on your phone (I use the free Maps.Me which uses no data) and you should be able to arrive easily to the pueblo. If you plan to drive all the way up to the volcano rim (you still need to hike for an hour each way), a 4×4 is recommended. If you have no car, then jump on a bus to Popayán from the Cali bus terminal – they leave every 15 minutes and cost around $15.000 pesos for the two-hour trip. Once at the bus terminal in Popayán just ask for the bus to Puracé. It's on the road towards La Plata. We saw several busses pass by when we were there. It will probably take another hour to reach the village on some truly scenic mountain roads. In Puracé just ask for a guide to help you. There are plenty available and income opportunities are few. Don't expect bilingual, though. Their services are cheap and they are very friendly. Tell them that you want to visit the volcano, see the condors and maybe the Frailejón forest. If you are walking/hiking the entire time, you should expect to spend at least 2 days in Puracé. Some very basic and very cheap sleeping options are available on the mountain. Most likely it will just be a private residence offering to rent you a bed for the night.
Just the other day, I saw that a tour operator from Cali called Oso de Páramo has begun making trips to Puracé. So if you prefer to leave the planning in the hands of professionals, here's your chance.
Do not expect a 5-star hotel experience and do not bring your high-heeled/high-maintenance girlfriend. Other than that, just saddle up and let the adventure begin!