If there's one thing that Cali is more famous for than anything else, it's salsa! Kids here dance. So do the teens, the couples, the singles, the grannies, the dogs and everyone in between. And even though Colombians all over the country dance, there's no place like Cali when it comes to getting your move on. I was never a fan of dancing. Salsa for me was like inviting an elephant to dance in an antique shop. I felt too big, too clumsy, too inflexible and was afraid to bump into surrounding couples. A night at Delirio changed that, and from that point and onwards, I've actually started enjoying salsa. Especially watching the world class performers gets me excited.
Every year, Cali hosts the World Salsa Festival. This year is the 10th edition. The event includes 3500 artists from all over the world, performing great shows and competing against each other, all to the tune of the country's best salsa orchestras, who are also competing to win the title of best salsa musicians. Besides the title and honor that comes with winning, this year's prizes are big by Colombian standards, offering as much as $20 million pesos for first place winners.
The inscriptions for 2015's event include:
72 cabaret groups,
48 infant groups,
186 couples competing in 5 different salsa styles: "On 1", "couple's cabaret", "Caleño style", "group cabaret" and "ensamble".
Each style is divided into the following categories: juvenile, amateur, professional and elite.
The festival takes place in 3 different venues around town: Plaza de Toros – Cali's bull fighting ring, Teatro al Aire Libre Los Cristales and Centro Cultural de Cali (FES). It's expected that more than 1 million people will be watching the broadcasting of the main events on TV.
Easiest way to stay up to date, is through the event's Facebook page. The official the program is below.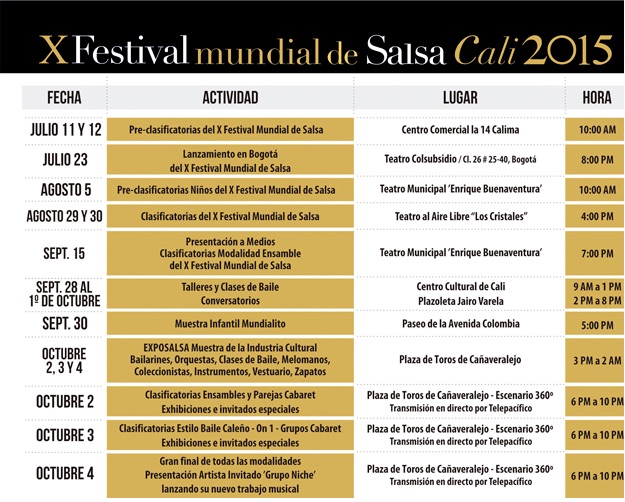 The festival is organized by the local Secretary of Culture, which usually means that entrance to the different events will be free.
So shine your shoes, find a date and get ready to party! If an event like this won't grease your hips, then nothing will.