I love the beach and so do my kids. So a couple of weeks ago, for my birthday, we decided to take a spontaneous last-minute trip to San Andres for the weekend. Although closer to Nicaragua the tiny 26 km2 island belongs to Colombia and is a tourism hotspot for mostly Colombians and oddly, lots of Brazilians as well. The population is a mix of Spanish-speaking latinos and black creoles who speak English like Bob Marley.
This first thing I noticed before arriving, was that we had chosen the wrong season. We couldn't land due to a tropical storm passing by the island and we were 12 minutes from deviating to Panama before running out fuel, when suddenly the sky cleared up and we got a green light to descend. The entire island had been completely soaked, something that we would see 3 times during our short stay. Rule #1 – avoid July to November – the Caribbean hurricane season.
We had booked a package deal with flight and hotel included and since it was last minute and the island is quite small, I did not pay too much attention to the location. The place is called Casa de Las Flores Tropical Lodge and is located on the southwestern side of the island. The taxi ride was about 30 minutes from the airport and cost $40.000.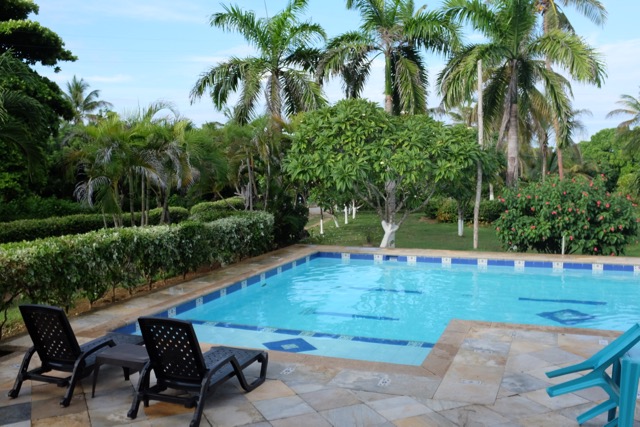 The place is gorgeous and so it the owner. Nice swimming pool and we loved the hammocks. It has access to the ocean from the rocks, the bedroom was great and the breakfast equally so. But it's far away from everything. The minibar was empty and the nearest Coca-Cola was about 15 minutes away by car. So the first thing we did was to rent a Mula – one of the giant 900 cc Kawasaki ATVs with roof and 6 seats. It's a great way to get around the island, except that when it rains you will get drenched big time since they have no windscreen. It happened to us on more than one occasion. The first time we were all dressed up and ready to ride into town – centro as they called it. My girlfriend must have spent 45 minutes putting make-up on and choosing the perfect dress to walk to malecón, when 5-minutes down the road a shower of epic proportions hit us and we got soaked from the inside out in 30 seconds and had to race back and hide in our bedrooms with our two little girls. It's fun the first time, but rule #2 is that if you decide to go during the rainy season, then rent a car instead of a mula. Although less macho, they are also cheaper.
What to do
To me, San Andres is all about the beach. Drinking coco-locos, cold beer and enjoying the beautiful water. The west and southwest of the island are all rocky and for adults and good swimmers. The most popular beach is by the centro and called Spratt Bight. Personally, I felt like it was too crowded and the waves too big for small kids. On the east coast lies San Luis, a gorgeous sand beach, very calm ocean, good restaurants and less crowded. It was easily our favorite and the walk through the ocean with my daughter on my shoulders to Rock Cay was lots of fun.
Due to the weather being unpredictable, we never made it to Johnny Key – the tiny island a 10-minute boat ride from San Andres. It's supposed to be great as well, but on weekends it turns into one big party and is not suited for little kiddos.
The scuba diving around the island is supposed to be pretty good. On a 3-day trip it's kind of selfish to leave the family to go diving alone, so I didn't go, but San Andres has two, shallow open water aquariums where you can bring your kids and snorkel, and see tons of marine life.
Due to difficulty of getting goods to San Andres, all products and services are tax free making booze, perfume and name-brand clothes big business for local entrepreneurs. The entire downtown is packed with stores catering to shopomanics – but the lazy island siesta is loooong and sometimes they didn't open before 5 PM.
A good buddy of mine recommended a visit to the old baptist church for a Sunday ceremony with gospel choir.
Eat amazing seafood. The Grog on Playa San Luis was our hangout. La Regatta in the centro is the most posh dining in San Andres, and fisherman's Cooperativo at the end of the playa Isleno is a great place to mingle and munch with the locals. Oh, and don't miss local street food specialties like arepa huevo and empanadas de camarón.
Cruise around the island in your Mula. Get up on the hill, into the little barrios and see how the isleños live. The road around the island is only about 28 km long, and you won't get lost. We rented ours which was only 1 year old for $220.000 pesos per day. It's pricey, but a lot more fun than taxis.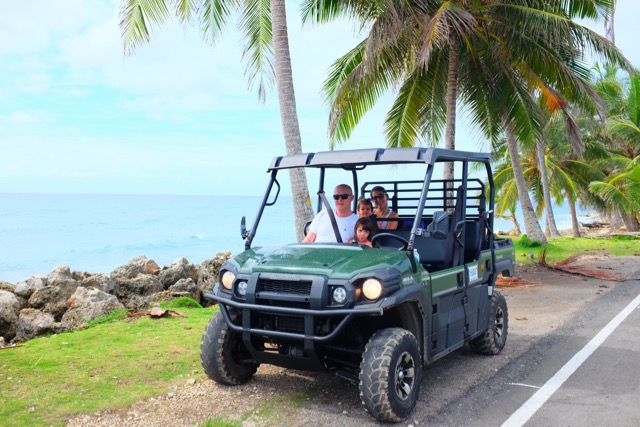 Where to stay
Many Colombians tend to favor one of the island's five Decameron hotels. These all-inclusive resorts with their package deals are tough competition for the locals. I prefer to go local. From what I saw, Cocoplum on playa San Luis seemed like the best place to be with kids. But make sure to reserve in advance – they are always packed. If you don't need to be right on the beach and plan to rent a vehicle, then check out Casa Las Palmas which is getting raving reviews.
How to get there
By plane! Viva Colombia has great deals if you can plan a bit in advance. LATAM is the runner up. Both have direct flights from Cali and several other cities. We booked a package deal through Despegar and although they screwed up in the hotel reservation and we had to spend some time on the phone to sort it out, it was by far the cheapest solution for our last-minute trip.
A few negatives
San Andres offers a great romantic or family getaway for a few days. More than that and you'd get bored unless you're a total beach bum or bring along a lot of good books to read.
The island has some serious garbage issues and it is sad to see how trash, fridges and old cars have been left in nature. Aside from a few gems, the architecture is butt-ugly and in need of some serious maintenance.
Compared to the rest of Colombia, San Andres is quite over-priced, which is quite normal for small island destinations as everything has to be brought in.
One thing that I noticed from my observations and from talking to some of the local residents, is that the younger part of the population seems to lack any sort of ambition. It's a common sight to see teenagers and young adults hanging on corners with their friends, drinking beers and smoking weed in the middle of mountains of garbage. Any aspiring entrepreneur should be able to find plenty of productive things to do – recycling metal sounds like a good place to start 🙂
The above being said, I'm sure you'll have a blast and none of this should keep you from visiting.