After having several friends recommend Restaurante Pica to me, I finally went with my family on a Saturday for lunch. We arrived at around 2:00 p.m., which is prime time for lunch-eating Colombians on the weekend, but sadly the restaurant was completely empty. Looking at the menu, I quickly realized why. This place is expensive by Caleño standards. That being said, if you have the money to spend, the prices shouldn't keep you away, because you will be in for a treat. Being one of Cali's finer dining establishments it has been well-received by the press and has already won several awards for it's innovative Peruvian-style kitchen. Seafood is clearly the specialty here.
First of, the decoration is very nice and they have a great outdoors garden in the back. Second, the restaurant is meticulously clean. While we were there, they had 3 employees cleaning tables, chairs and dusting of bottles. Impressive, but it also seemed like they had plenty of time. Third, the food is really good and the plates beautifully decorated.
We ordered crabs rolls with a ginger sirup and a tuna/salmon/avocado tartare for starters. Both were absolutely amazing and I had a hard time accepting that I had to share the starters, but as I had invited my mother in-law, I was on my best behaviour.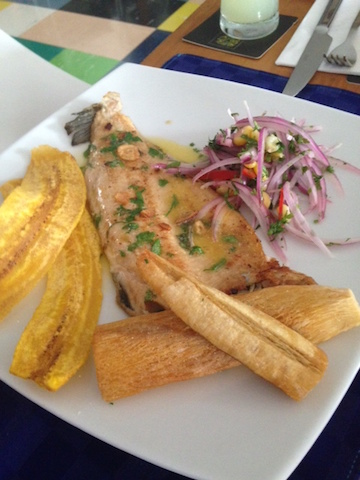 Our main courses were trout in garlic sauce, tenderloin medallions in a soy sauce reduction and grilled hake served with a orange sauce and crispy parsnip chips. All very delicious although not as impressive as the starters. My daughter had some fish fingers with a pasta and a cilantro dressing, and although she only ate the pasta, her daddy can confirm that the fingers were great. It's also nice to see a place that serve real for kids, that usually just end up eating junk even at fine restaurants.
The bill was $230.000 pesos including tip (around US$100) for 3 adults and one child eating 2 appetizers, 3 main courses and the plate for my daughter. We all had a juice or coconut limonade each. Not cheap, but not absurd either for a pretty high quality meal.
To be fair, although lunch is the big meal of the day in Colombia, I think the places receives far more guests at night. I was driving, so no alcohol for me (there is a zero tolerance in Colombia) but judging by all the wine bottles on the shelves, several of which were magnum sized, I dare to say that they must have an impressive wine list. It also looks like they have a full bar and will shake or blend any cocktail of your desire. There's no website to be found but they make sure to update their Facebook page frequently.
Restaurante Pica • Calle 4 Oeste 6B # 3a-32 in El Peñon – Cali, Colombia
Opening hours: Tuesday to Saturday from Noon – 1:00 a.m. & Sunday from 11:30 a.m. to 5:00 p.m.
Reservations: 375 6947