Two hours west of Cali by car and it feels like stepping into a new country. Many people don't realize that Cali has an elevation of 1000 meters (3280 ft). Reaching sea level and the temperature rises 5-8 degrees and humidity increases to 95%. The landscape turns into a dense jungle. Welcome to the Pacific Coast of Colombia. Welcome to Buenaventura, the most chaotic place you've never been to.
Arriving in Buenaventura and you might as well have arrived somewhere in Africa. The population is black. The streets are dirty. The cityscape and architecture are awful. It's unorganised, corrupt and parts of the city are very unsafe. Have you ever heard of the "las casas de pique" – the houses where teenagers chop rival gang members to pieces with machetes? Although you're unlikely to end up in one, these places exist in the poor, stilted neighbourhoods on the outskirts of Buenaventura.
Aside from all the filth, Buenaventura is also a gold mine. Somewhere around 75% of all imports and exports pass through the port here – Colombia's only container gateway to the Pacific ocean and the factories in China. Judging by impressions you get walking down the streets of Buenaventura, it seems like only a very small part of the local population gain anything from all the international trade.
The real reason for me to visit Buenaventura, though, was not to go sightseeing around the city. I came to catch a speedboat to a little remote village up the coast called Ladrilleros. First stop en route is Juanchaco. Our small lancha with two 200 horsepower engines got us to Juanchaco in about fifty minutes. It is a beautiful trip. Shortly after leaving the port, the green and lush jungle becomes apparent. We went on a calm day. If it's really windy, a spot known as el paso del tigre can get quite wild, but the local captains seem to have it under control.
Upon arriving in Juanchaco, local gentlemen with wheelbarrows working for a tip helped us carry our luggage to the outskirts of the village where ancient tractors taxi people the last stretch up the coast to Ladrilleros.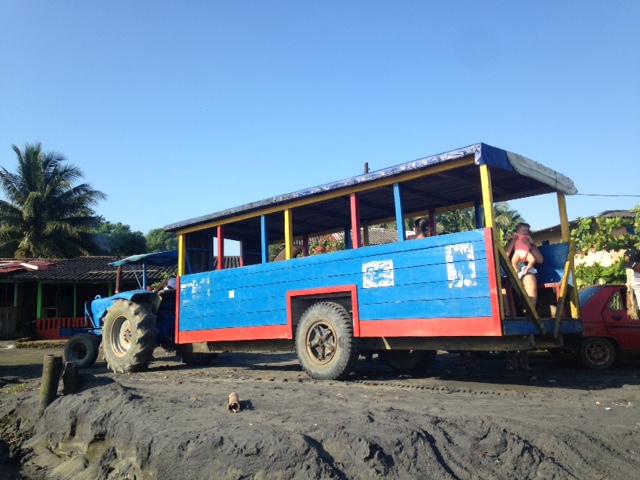 Fifteen minutes and $2.000 pesos later we arrived at our hotel, La Palma Real. It's a fun and bumpy ride, in our case only interrupted by our driver's occasional pitstops for shots of aguardiente (it was New Years – and the local police didn't seem to mind).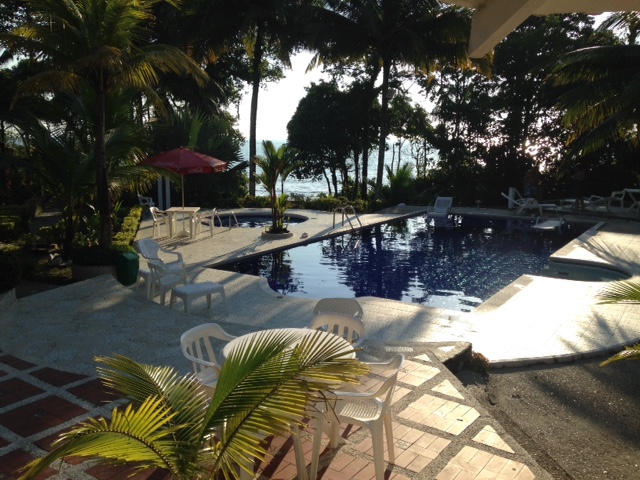 I travel with kids and prefer a certain degree of comfort. We stayed what is probably one of the nicest establishments around Ladrilleros. It is by no means fancy, though, but the pool was great for kids and adult, the barman attentive and the hammocks with a sunset view of the Pacific were the perfect place to chill in the humid afternoon. We paid $120.000 pesos per night per adult. This is high season price. My girls stayed for free. The price included our private room with a bunk bed and a queen, private bath, A/C, TV, a little balcony with a hammock, breakfast and dinner. There are plenty of other options around, starting as low as $20.000 pesos per night.
Things to do in Ladrilleros
The Pacific coast is a great place to destress and relax. Things move at a different pace there, which I really enjoyed. We spent a total of 3 nights in Ladrilleros and a great part of that time was spent by the swimming pool and beach in front of the hotel. I'd suggest to walk around the village, meditate, read a book, play, get a hammered at a local watering hole or have sex all day in your room with a loved one. Unplug your electronics and reconnect with nature. I really enjoyed the fact that we didn't have a wifi connection.
There's a guy in Ladrilleros called Manuel Nativo (everybody knows who he is). He gives tours in his longtail boat into the jungle mangroves, an area known as Los Esteros. For a full day tour around Los Esteros, jumping into freshwater swimming pools, and the subsequent transport to La Barra, we paid $25.000 pesos per person + $2.000 pesos to an environmental organization who work to preserve the cleanliness of the rivers.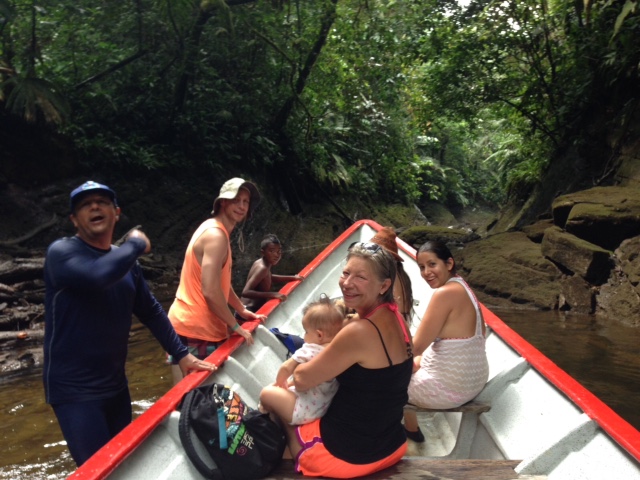 La Barra is a quiet little village on the beach, a little north of Ladrilleros. I was told that you could walk there in about 1,5 hours. It's a beautiful all-sand beach with some of the warmest water I have ever swum in. The beach is great for kids as it allows you to walk far out without the water getting deep. Behind the beach, hidden behind the palm trees, you'll find several little primitive restaurants, lodgings, and bars. I've said it before, but I'll repeat myself: the Colombian pacific food is best the country has to offer. Great fish, shrimp, lobster, coconut rice, coconut sauces, soups, plantains, etc. They eat little vegetables, though, and for me it probably took a good three day for my stomach to adjust. That being said, one of the big pleasures of visiting the Pacific coast is enjoying the food.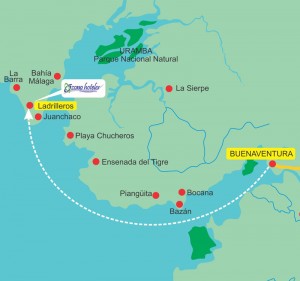 Another day trip visits La Sierpe waterfall. A tractor will pick you up, take you to Juanchaco from where you'll be loaded onto a speedboat. It quite a long ride, maybe 1,5 hours. One of our engines cut out and we had to wait for another boat to pick us up. No fun in the burning heat with little kids onboard. The boat took us by the navy station at Bahía Malaga, before arriving at La Sierpe, more inland and up the river. The waterfall and connecting pool were nice, cool and worth a visit, but in retrospect, it's not a place I'd bring small kids that can't swim.
After La Sierpe, our captain took us to Playa Chucheros, a little community with a few families living together, about 45 minutes from the waterfall. To me, personally, Chucheros was a big disappointment. The water was nice, the lunch was great, but the beach was full of garbage like nothing I have ever seen before. I talked to the locals about it, asking them how they could just throw garbage on the beach. They assured me that the trash came from the ocean, from the big ships and from Buenaventura. New waves of filth continue to wash up every day.
A 10-minute walk down the beach we found a freshwater waterfall forming a gorgeous little pool. Unfortunately, it was surrounded by trash as well. Very sad to see. This full day trip cost us $40.000 pesos per person.
Remember if you're in Ladrilleros for the whale season, which starts in late July and continues through to late October, the village offers an excellent hub and is preferable over Juanchaco or Buenaventura. It's cleaner, quieter and more beautiful.
As a final word on activities, if you're a fishing aficionado, make sure to bring your gear and hire one of the locals with a boat to take you out early in the morning. Then have a local mama prepare your corvina in the afternoon.
What to bring
The Pacific coast has a very different climate. It's a different world out there. In order to enjoy your stay to the fullest, there are a few things that will make your time in Ladrilleros a lot more pleasant. The availability of even basic goods is very limited, so make sure to arrive well-equipped.
Mosquito spray (although we didn't see many bugs)
Hat for sun protection
Sun lotion
Water shoes which make it a lot easier to walk in the river
Swimming shirt to avoid being burned while playing in the water
A dry bag for boat trips and valuables
How to get there
From Cali, you can catch a bus from either the bus terminal or La Portada to Buenaventura. I went in a car but it should cost around $23.000 each way for adults traveling by bus. Once in Buenaventura, you can either catch a taxi or collectivo from the bus terminal to the tourist pier – el muelle turistico. You can't miss all the offices selling trips to Juanchaco. Tickets will cost you $55.000 pesos for a return ticket + a $4.500 fee to enter the tourist pier, which is a wreck… I wonder where that money goes… hmm.
4 PM in the afternoon is the last boat in either direction before the Pacific breeze gets too powerful and the waves too big.
I waited two years before going to the Pacific. People have been telling me not to go. Telling me it was too dirty, too dangerous, that the sand was black, people not friendly… blah blah blah. The truth is that I had a blast and my only regret is that I didn't go sooner.
One word of caution. Be careful on the beach in Juanchaco around the area where all the tractors are parked. The beach is really pretty, but there's a dangerous current just off the shore that has killed many. Other than that, just go and have fun!