One of Cali's most iconic mountain peaks can be hiked in less than half a day, so what's your excuse?! Pico Loro (or Parrot Peak) is part of Parque National Natural Farallones de Cali and can be easily spotted to the south of Cali due to its steep pinnacle and proximity to the city. On the trail you'll likely see tropical birds, humming birds, many types of butterflies, and if you're lucky deer, sloths and other wildlife.
The trail to the summit which is protected by the National Natural Parks Service, is safe and well marked. However, there is a limit of 30 hikers per day, so if you plan to hike on Saturday or Sunday you should get to the trailhead by 5am at the latest. If you hike on a weekday, you'll have the trail mostly to yourself. Depending on your shape, it's about 3 to 4 hours to reach the top where you'll have great views of the city and surrounding mountains. I consider the technical difficulty to be moderate. If you're got osteoporosis and are not willing to climb the equivalent of a hundred flights of stairs, then this is not a place for you.
Here is what you need to know
The trail head is easily accessed by car or bus. By car you'll want to head towards Pueblo Pance and make the turnoff in the village San Francisco towards the GPS point below; the drive from Cali is about 1 hour and there's plenty of parking on site.
With public transportation it'll take longer but it's easy. Take the Mio bus to the southernmost station (Universidades). Ask where to catch the buses, sometimes called Recreativos, towards Pueblo Pance (note that Pance can refer to La Voragine, so specify Pueblo Pance, which is the village further up stream). Get off the bus in San Francisco, just before Pueblo Pance and ask a local about the trail (camino a Pico de Loro).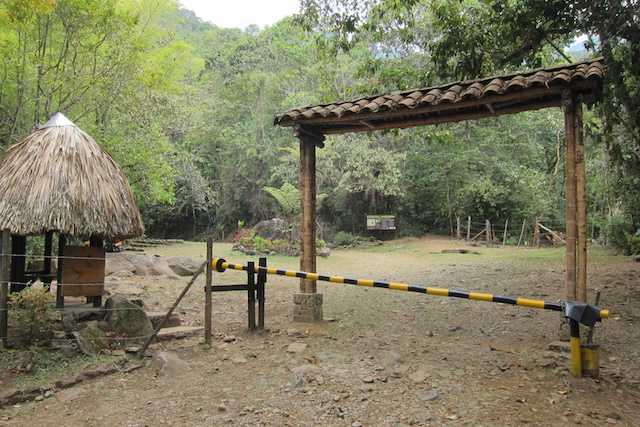 The trailhead is located here.
The trail is marked using ribbons and there is a running water supply (which I drank from unfiltered) halfway up the trail, but I'd bring a couple of liters of water and some snacks just to be safe.
The summit is located here.
Should you wish to camp there are flat areas at the top where you can pitch a tent for free.
Enjoy! If I forgot something or if you have any comments please let me know 🙂