Here is what I wrote in bullet point 5 in my article on 9 Ways to Earn Dollars in Colombia:
"Buy an apartment, furnish and rent it out on AirBnB. All prices on their website are by default quoted in dollars. Bogotá, Cartagena, Medellín, Santa Marta, Taganga, Barranquilla and Cali all have plenty of demand. It could also be a farm house in the coffee district, especially Salento attracts a lot of tourists."
Tourism in Colombia is picking up and has been rising every year for the past 10 years. News of the booming Colombian real estate market is also reaching far-away corners of the world. Both are great news for you as potential investor. And aside from a few neighborhoods in Bogotá and Cartagena, Colombian real estate is still very affordable by international standards. Paying less than US$1000/sq. meter for quality construction anywhere in the world is considered a bargain. In many big Colombian cities you can still find nice properties selling for less than US$500/sq. meter. That's a bargain by any comparison and probably only seen better in Venezuela, Somalia, Congo, Syria and South Sudan at moment.
Investing in Colombian real estate and renting out your property gives you three ways to win:
Positive cash flow
Renting out your unfurnished property in Colombia on a long-term contract (12 months is the norm) usually yields somewhere between 8-10% annually. Not bad at all. But by my own personal calculations, you can earn way more by renting the same property out short-term, especially if it's a nicely furnished place in a great location. I'll elaborate on this below. Never buy a property only as speculation. A property has to produce positive cash flow.
Rising property values
Colombian real estate is so cheap by all measurements, that even without foreign investors knocking on your door, I believe that annual increases in property values of 5-10% is very realistic. Industry magazine Metro Cuadrado seems to agree. The prosperity of the rising middle class will be the biggest force behind an increase in valuations.
A potential gain on currency
The Colombian peso is about as cheap as it can be, hitting its lowest level against the dollars of $3261 USD/COP a few weeks ago in late August 2015. It has reached the point of maximum pessimism. While it may not begin rising tomorrow, I do believe that over the long-term it will return to its historical average somewhere between $1800-2000. That's a potential 30% gain if you are investing USD, EUR, JPY or GBP – a massive profit for a currency speculation.
I list the best places to find properties for sale in Colombia on my resource page.
AirBnB
If you don't already know what AirBnB is, let me tell you quickly. It's an online platform where regular people like you and me can rent out furnished houses, apartments or rooms short-term to business people, tourists or locals. It makes it more affordable to own a holiday home if you can generate income with the place when you're not using it. While it does require a little more work, the short-term rental market also allows for higher daily rates than if you were renting out by the month. Many people, including CEO's of big companies, are actually beginning to prefer staying in private residences as it provides a warmer, more cosy and personal experience than staying in hotels all the time.
A powerful feature on AirBnB is that the property owner reviews the clients after the stay and vice versa. It creates the margin of trust necessary for renting out your property to a stranger. Renting out your place on AirBnB also comes with a $1.000.000 USD Host Guarantee, free of charge, for all eligible bookings. Unfortunately Colombia is not yet covered by this guarantee, but AirBnB claims that they are working to implement it for all of its remaining markets.
But really, you don't have to use AirBnB for renting out your place. It's just an easy way to reach a large audience. You could market your property through your own website or list it with a full-service property manager like The Apartment Medellín.
If you're in Cali, I'd be happy to help you buy and manage your property as well.
Tips for improving your occupancy on AirBnB
Renting out your property on AirBnB means that you will be in direct competition with the local hotels and other local property owners listed on the platform. While you may not have a big marketing budget, there are things that you can do to improve your occupancy. When people choose to stay at a private house versus a hotel, it is usually because they are looking for a more personal experience than the standard hotel room offers. This is very important to remember, because personalizing the experience for your guests does not have to cost very much.
The natural instinct of most people is to rent a nice place, well-decorated, in a good location and at a fair price. In addition, most people base their decision on the reviews that the property has received. The reviews are a result of the overall impression of the property as well as a reflexion of you – the host.
Here's a list of small things you can do to boost your positive reviews and occupancy:
Take good pictures and have a great description of your place. Include a floor plan if possible and even a photo of a wifi speed test. Tourists and business people alike LOVE powerful wifi.
Keep you place spotless clean, with clean towels and bed sheets.

Have clean, fluffy bathrobes for your guests to use.

Have a universal charging dock. 

Make your place feel like a home and not just a cheap rental for tourists. This does not have to be expensive to do. It has more to do with the little details. I'm sure you know the feeling when you step into a good friend's house – that's the feeling you want to emulate. If this is beyond your capability, ask a female or gay friend to help you decorate.
Write a short welcome letter which includes your contact details, a note about local transportation, and list your favorite 10 things to do in the city. If in Cali, leave a link for the CaliAdventurer blog for inspiration. If in Medellín, add MedellínLiving, and so forth.
Get or make a small map of the city to help your guests navigate. Add a few neigborhood recommendations like a restaurant, a hair dresser, a supermarket, a bar, etc. You can get maps from the local hotels or tourist office.

Include a few complimentary items as a pleasant surprise to a weary traveler: Coffee, a few beers, sodas, water, chocolates, fruits and maybe some breakfast cereal. Like a mini-bar – just without the boring the bill that comes with it. 

Price your place for the seasons – use Booking to see how the hotels are doing it.
Keep your AirBnB calendar updated and be quick to reply. Getting the app for your smartphone makes this easy.

Don't be afraid to set some limits. Minimum stays, check-in times and house rules make your rental manageable and you a better host.

And finally, don't forget to smile, be responsive and offer kick-ass service!
Here's what I am in the process of doing myself
Colombia is in my opinion a cash buyer's market. Financing through a Colombian bank and paying 10-12% annual interest is very unattractive from a foreigner's perspective. It's also going to eat away most of your profit.
After I lost $100.000 dollars on a property transaction, I was left with little cash left to do any investing. Even though I got scammed and my initial reaction should have been to stay far away from the Colombian real estate market, I just couldn't. I keep seeing opportunity wherever I go. I began looking at smaller projects that could produce positive cash flow from day one. So far I've found 3 places that I am in the middle of negotiating. The problem is that I only have cash to pay for one apartment.
Time to get creative! 
I contacted my Danish bank and asked them for credit. When I told them that it was for Colombian real estate, their natural response was to reject my proposal as they couldn't get any collateral. The other reason they rejected my proposal, was that they thought I needed a lot more money than I actually do. A decent apartment in a big city in Denmark easily cost $500.000 dollars and there is no way they would loan that kind money to someone without the ability of having any collateral.
When I proposed a $100.000 dollar loan – enough to buy two apartments in Cali, they became more willing to negotiate. Interest rates for collateralized real estate in Denmark hoover around 2% annually for a 30-year mortgage. I aimed for a 5% non-collateralized loan, but in the end I settled for 6% which was the lowest I could negotiate with my bank. Still a bargain by Colombian standards.
A hundred thousand dollars equal about $300 million pesos by today's exchange rate. That's enough to buy two nice little apartments in Cali and get my business started.
Here's a budget I've made for a studio apartment, that I've found in barrio El Peñon – an attractive and safe neighborhood in Cali's gastronomic district: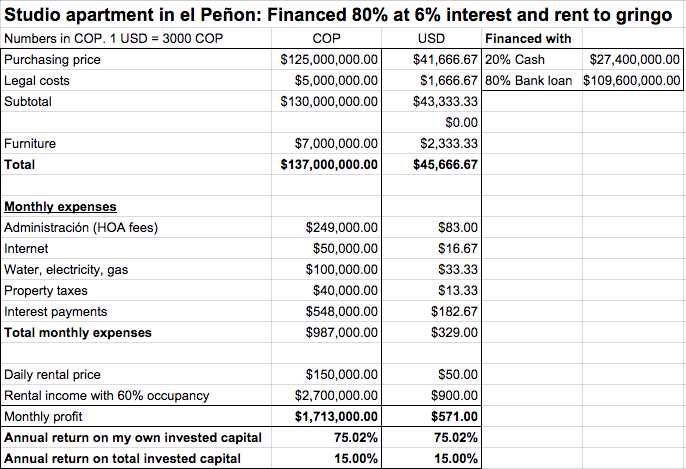 The interesting part is, that if I choose to pay everything in cash, I will earn a 15% return on my cash investment. That's OK. But by financing 80% through my Danish bank, I'm capable of earning up 75% return on my own capital investment – the only number that really matters. Even if I lowered my daily rental price to $40 and set the occupancy to 50%, I'd still be able to generate 35% on my original cash investment.
With this kind of profit, there will be plenty of capital to pay off the loan and cover unforeseen expenses, which will probably be few, as the building in question is only 8 years old.
Tell me where else in the world that you can make such a great real estate investment at the moment? Especially when you factor in the cash-flow, the weak peso and the rising property prices. Even if the exchange rate stays the same, I should be able to pay off my loan in just over 5 years.
It's also a win-win for the guest. Paying $50 a night for an apartment in this part of town is cheaper than staying at the hotels in the same area.
What if you have no money to invest?
As I've showed above, you don't need huge amounts of capital to make this idea work. But if you don't have a bank willing to loan you any money, I still have an idea that I have seen work for one of my friends in Cali.
My friend has signed long-term leases on several apartments in good locations. He decorates them nicely and rent them out short-term to foreigners. What he earns is the difference between his lease and the amount of money he is able to generate with his short-term rentals. All he needs to recoup is his investment in the furniture.
The most important thing in this scenario, is that your landlord is OK with the idea of you subletting his property. You could offer to pay a little more and promise him that you will take good care of his property. Make sure to only do this with properties in areas where you know that there will be a demand.
If you don't believe in this option either, you could start by renting out a room in the apartment or house where you currently live. It will not give you the same earning potential, but will still be a way to earn some dollars and help pay the rent.
Anyone pondering the same ideas? Any questions? I'd love to hear from you in the comments below!