I love a good workout. It clears my head, releases stress and makes me feel great. That being said, I'm not a big fan of going to the gym. I'd much rather be outside, especially in Cali where the weather is great all year round.
For a long time, I just worked out at home or in one of the many parks in the city, but after moving to Bellavista I'm quite far away from the parks. Even though I continue to do my own workouts, I must admit that sometimes it's nice to meet up with new people, try some new exercises and get some feedback on your physical condition from a peer group.
A neighbor of mine introduced me to CrossCamp in Cali, a centrally located gym with an outdoors crossfit area, next to the Canchas Panamericanas focusing on functional, military style workouts. The happy husband-wife couple of Diego and former bodybuilding champion Gladis Flórez run the operation and one thing I really like is that they try to mix things up, so that while covering the entire body, every workout is still different. Always expect to run during warm-up though and always expect lots of squats, pushups and burpees during each session. Everything else varies with each visit.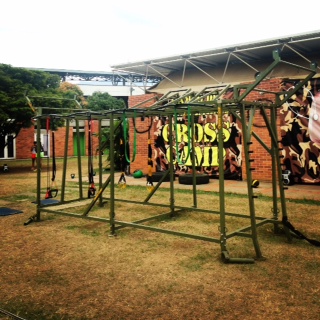 Besides the workout, it's a great place to meet new people. Gladis and Diego also do at great job at inviting people to races all over the country, creating a team atmosphere for the group and especially during events. They also give running classes 5 times a week for serious runners.
The best part about Diego and Gladis is that they charge no monthly membership fees, making it an excellent choice tourists as well as residents. You simply show up on the days you wish to work out and pay the daily fee of $7.000 pesos (Less than $3 USD) and that's it.
How to get there…
The crossfit classes take place on Mondays, Wednesdays and Fridays and start at 8:45 A.M. Mondays and Wednesdays are more traditional crossfit classes while Fridays focus on running and regularly involve new locations, like Three Crosses, Pance, Felidia or the Cali Stadium.
The gym is located on Calle 9 # 37-00 in Cali inside the Canchas Panamericanas complex. It's nestled between the baseball diamond and the tennis courts. It can be a little tricky to find the entrance from the parking lot, but just ask if in doubt. You can always just show up for one of the classes, but the easiest way to stay updated is to send Gladis a message on Whatsapp (+57 310 413 3140) and ask to be added to her broadcasting list – la lista de difusión. That way you will be reminded every time there's a workout. Tell her that Patrick sent you and she will receive you with open arms. You can also stay in touch via their Facebook page. Either way, I'm confident that you will have a great time.