Fake bills are everywhere in Colombia and nearly everyone (both Colombians and expats) has been tricked at least once.  So, it's important to remember to check each note you receive to make sure it's legit. I learned my lesson the hard way a couple weeks ago when I was given change at a restaurant in Cali. The counterfeit bill I received was only COP10,000 (~$4), not the biggest loss on my end but I thought I would write a quick article to show you what to look out for.
The most common Colombian Peso bills which are forged are the 10,000; 20,000; and 50,000 denominations. Take time to study a few real notes and notice the detail in the intricate printing, watermarks, security strips and colors. Also, learn the feel of the currency and the texture which becomes apparent when you fold a bill and rub the halves against each other. Check out the photos below to see the fake bill I received compared to legitimate currency.
At the end of the article I'll be linking to the photos in high-resolution, where it will be easier to spot the differences.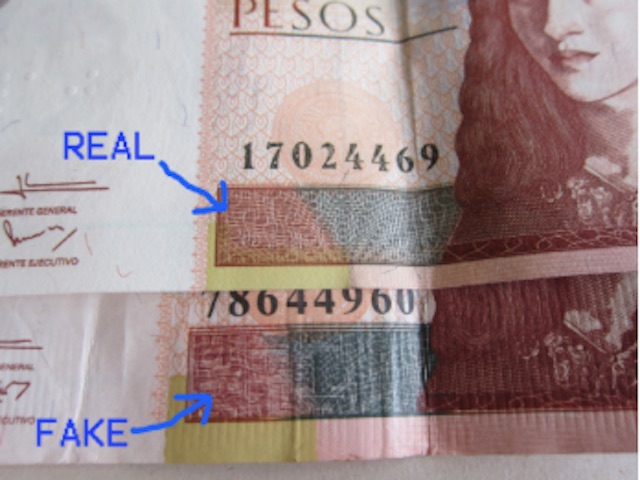 Here's a few more examples.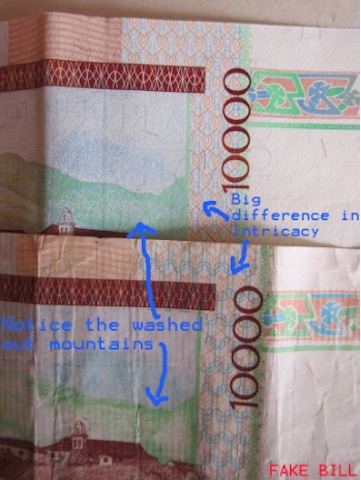 Look out for the silver lining that runs through the bill.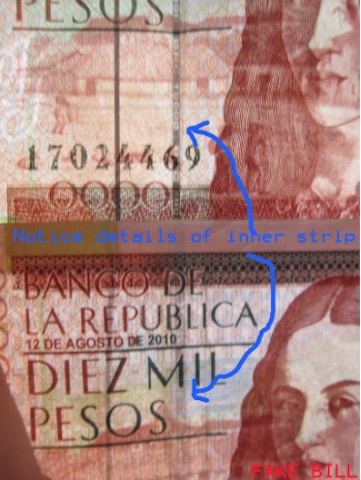 Hope this helps you avoid getting ripped off!  Let me know if you have any questions or suggestions for other readers in the 'Comments' section.  ***The answer to the first photo question: the bottom bill is the fake.***
Click here, here, here and here to access the photos in high-resolution – you are welcome to download them. You'll be able to magnify the bills and the differences will become even more obvious.
Thanks for reading and please share!