My all-time favorite exercise in Cali is probably climbing the mountain in the northwestern part of the city with the three crosses (and the 50 antennas).  The place is known as "el Cerro" to the Caleños and it is visible from most of Cali. The simple reason that I love it so much is that it combines a bunch of activities that I really enjoy: hiking, calisthenics, eating and looking at pretty people. On top of that, I'm able to do it all in about one and half to two hours – not compromising my entire day. For someone reasonably fit, it takes around 30 minutes hike up, 30 minutes to do a workout in the outdoors "Flintstone" gym with concrete weights, pull-ups bars, bars for dips etc. Then you'll need a few minutes of rest while drinking a freshly squeezed orange-carrot juice and eating a banana bread, before hiking down, another 30 minutes.
If you're in bad shape, plan on doubling the time ascending and descending.
This activity is super popular with the Caleños and it gets packed, especially on Sundays. They've even started bringing a preacher up to do a ceremony at 10am on Sunday mornings. But don't worry, if you're not into that, you can just keep doing your pull-ups.
Tips & where to start the climbing
There are several different places to start the ascend, but for first-timers I recommend starting in barrio Normandiá on Calle 2 Oeste. I'm pretty sure that if you follow the crowds it will make perfect sense, but here is a snapshop of where the trail deviates from the road and starts going up.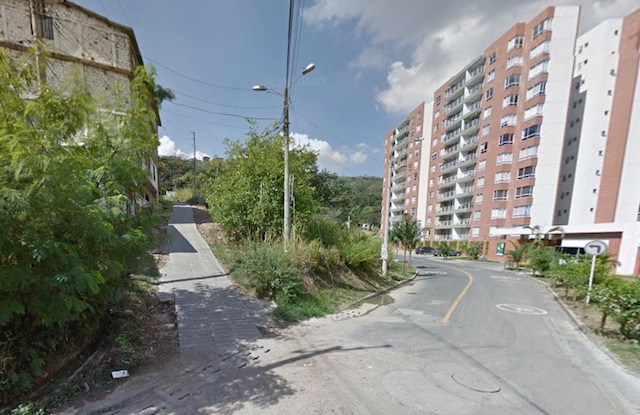 The first part is through a little make-shift neighborhood. 5 minutes up this road/trail, you'll notice that the road naturally turns toward the left, but you can also turn right into a dirt trail and then quickly to the left, where you will begin to climb rocks. From here is't pretty much straight to the top. Halfway through the hike, you'll reach a plateau and walk straight for a few minutes, before the trail splits. Go straight and you'll reach the wall-climb, the hardest part of the hike. Go left and you'll have an easier, although longer hike. I prefer the wall-climb going up and the smoother hike going down. It offers variance and less technicality. To catch the smoother hike going down, pass the barrier blocking the road in front of the police station and take a left down between the rocks. From there onwards it should be pretty easy to figure out the rest.
Don't forget to stop op once in a while and enjoy the amazing view of the city.
Go early in the morning (start no later than 9am) for two reasons. First, you'll avoid the burning midday sun. Second, there will be police patrolling the trails going up. Wear lots of sunscreen and a hat. If you burn easily, then wear a big hat, that gives you shade in your entire face and neck. Bring small bills to buy water, fruits, juices and banana bread. $5.000 pesos should be enough.
Any questions? Feel free to ask below.