On a hot summer day, which is pretty much any day in Cali, there is not nothing better than an ice cream in the late afternoon. For me at least. Luckily Cali has several places where you can satisfy your cravings.
I just found this place.. I mean, I literally just got home from eating a scoop of passionfruit and ginger ice cream! So delicious that I had add is to this list. It's a small place in the middle of San Antonio. All ice cream is made on-site with what they say is 100% natural products. They are pretty creative with their combinations, making flavors such as lulo+lemon+mint+rosemary and another one with vanilla+red bell pepper.
There is a shaded patio in front of the store, which makes it a perfect place to sit down and take a break. Each scoop costs between $3000 and $4000 pesos and the address is Carrera 6 # 1-19, in barrio San Antonio.
Montallegro
It is a small new place. Italian owner Armando that makes delicious home-made ice cream, based on both milk and water with low sugar content. In an interview with the local newspaper, ElPais, Armando said that Colombia's 365 fruits give him an opportunity to make a new flavor every single day! I've only been once, but I'm already a fan! They have a great selection of flavours you don't see often, and are happy to let you try before you buy. Besides the regular cup, you can also buy big 1 liter containers and bring the ice cream home to your freezer.
They have a few benches and tables outside where you can sit and relax while enjoying your treat. They don't have a website or facebook yet, but it's located in barrio El Peñon on Carrera 3a Oeste # 2-17 – right in front of Sushi Good.  Tel. 893 3090 & 321 898 1250.
Calathea with locations in El Peñon and Ciudad Jardin is probably my favorite ice cream shop. They have an amazing selection of home-made ice cream, like Mexican vanilla, strawberries with redwine, Grandma's coffee, figs, coconut with lime, 65% chocolate and lulo – just to mention af few. All are served in cone or cup with a home-made wafer on top. They make great coffee too and attracts the ice cream loving elite of Cali, making it a great place to people watch as well.
Calle 4 Oeste # 3A-50 in barrio El Peñon
Has 6 locations in northern, western and southern Cali is a decent choice. The have a big dessert menu but also offer sandwiches, soups, pastas, salads, wraps and coffee. Their ice cream and cakes are quite good, without being over the top. They have large playgrounds, making it an ideal destination with kids. It is also possible to use their restaurants for your kid's birthday party and they have staff onsite to manage all the entertainment. The best part is that they do home deliveries (domicilios) of pretty much the entire menu. So if you are in a hurry or have unexpected visitors, they will happily help you out. My favorite is not quite an ice cream, but one of their "Malteadas" (milkshakes) called "Maracululo". A passionfruit milkshake with chunks of lulo in it – it's the bomb!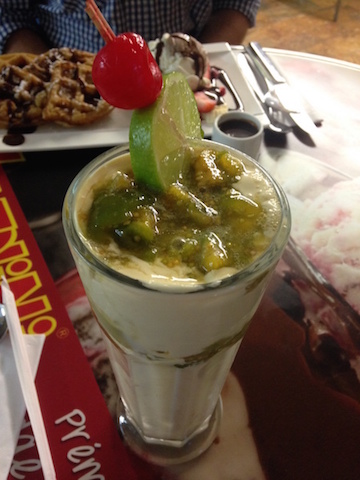 As mentioned in another article – the restaurant Crepes & Waffles have amazing desserts! And you can get their ice cream as take-away in different size containers. Click the link for a full review of the restaurant.
Is the newest kid on the block. For some reason they all choose to open on top of each other in el Peñon instead of sharing the city between them. I don't know what artesian ice cream means, but whatever it is, they are doing something right. It's delicious and absolutely worth a visit.
Calle 2 Oeste # 2-34 in barrio El Peñon.
We would love to hear from you
As big fans of ice cream, we're always looking for new places to frequent. If you have any additional recommendations, we'd love for you to let us know in the comments below. Sharing is caring!