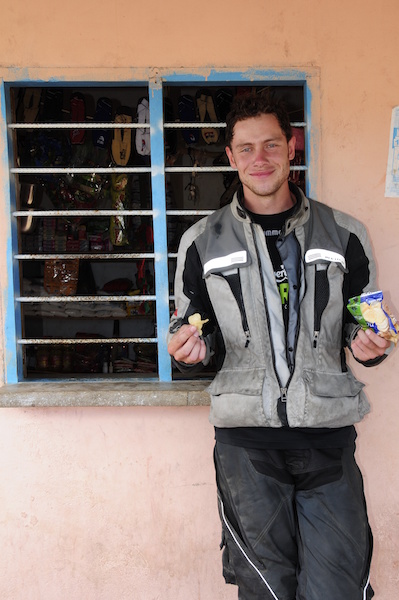 My name is Patrick and I've been living in Cali since August 2013 with my girlfriend and our 2 daughters.
I was born in Denmark as the oldest of two boys. My mom is a pure-bred viking. My dad is an American dixie gentleman, from the state that brought you Coca-Cola, fried chicken and Ray Charles. Both were peace & harmony hippies and their first date was on a nudist beach on the island of Ios in Greece. I arrived not long after that.
My parents started a Mexican restaurant, Tortilla Flats in 1987. Although divorced, they still operate it together till this day, and have more than 50.000 guests visit the place every year. I got my first job in the family business, starting at the age of 8. I'd come in after school, shine silverware, fold napkins and change candle lights twice a week. I'd earn $4 a day doing these chores. It didn't take me a long time to start saving half of my income. A discipline I maintain today.
Growing up, I always felt like our priorities were different. We never had the newest car, a dishwasher or a flat screen TV. Whenever we had a little money it was usually always spent traveling and naturally I got hooked.
In 2005 when I was 19 and straight out of high school, hard work and investing in stocks had earned me enough money to travel around the world for the first time. I went from Denmark to New York and greyhounded my way to California where I jumped on a plane to Bangkok. I spent 8 months traveling Thailand, Laos, Cambodia, Vietnam and Malaysia, before flying to Australia and buying a van, that I lived in while touring the entire east coast. After a short stop in Hong Kong, it was back to Denmark in order to begin studying economics.
But I was restless and felt like the pace of university was way too slow for my lifestyle. So I dropped out and started working odd jobs to keep financing my traveling escapades. Several years later, I managed to settle down long enough for me to start my degree in Organizational Behaviour and Business Economics. After two years, I felt like I needed a break.
Inspired by Ewan McGregor and Charley Boorman's motorcycle adventures I began talking to a friend in Uganda about buying motorcycles in Denmark and riding them to Cape Town. Calling me excited would be an understatement. A few months before the planned departure, my friend called and told me that he wouldn't be able to make it. I was devastated. I had told my then-girlfriend and my entire social circle that I was going on this trip, and now I felt like I was about to loose face in front of everybody. I decided to ride through Africa alone… that is, until my mom freaked out and we "compromised" on South America instead. I'd always wanted to learn Spanish and a few visits to Mexico hadn't yielded more than a few vague sentences about ordering more beers and asking for the check. And the more I started thinking about it, I realized that South America also had potential to become the adrenaline-filled journey that I was lusting for.
Ignorant as I was, I didn't even know if the roads south of Panama were paved. By purpose I decided not to investigate too much in advance. I didn't want to spoil the adventure. In October 2010 I flew to Atlanta, bought myself a motorcycle and began my trip. While still in the US, I ran into two guys, a Colombian and an American, who were traveling on bikes like myself. Their goal was reaching Colombia, and although I was going to Brazil, we teamed up and continued south together.
It's fair to say that this trip became the adventure of a lifetime. It would take a book to tell all the stories. What you need to know is that on my last night in Cali I meet a local girl. We danced, kissed and partied all night. Next day I was on the road towards Ecuador. I got an email from the girl, asking about when we should meet up again. I told her Lima might be an option. Two weeks later she arrived and we spent 10 days riding together to Cusco. Five months later we met up again, this time in Brazil, where she traveled with me for three weeks, until I had to go home and finish university.
In my summer vacation before starting my last year of studying, we met in Italy, rented a car and drove from Sicily to Rome. My Caleña friend got pregnant on this trip and an important decision had to be made. On my request, Jessy came to Denmark to give birth our little daughter while I was writing my final thesis. After graduating we moved to Cali, Colombia and have been here ever since, adding a little sister to the equation in the meantime.
This blog is about life in Cali and Colombia, seen from the eyes of an expat and investor. It includes recommendations about fun things to do in Cali, places to visit and Colombian culture. It also delivers guides and ideas on how to invest, how to start a business and shares some serious Colombian-life-hacking advice based on my (oftentimes bitter) experience. The goal is transparency and helping out fellow tourists, residents, investors and digital nomads.
May it serve you well and please don't hesitate to reach out to me, if you think we should cross a mountain range or just drink a beer together. I love meeting like-minded, slightly crazy people with the nothing-is-impossible kind of attitude.
Patrick
PS. Check out this interview that I gave to Internations, the world's largest expat community. (The page will ask you to sign up as a member to read the article, but just click the X in the corner of the popup and you should be free to read)