You might have a WiFi connection at home or at the your hotel, but maybe you tend to fool around on social media instead of actually getting stuff done? Or maybe you need access to a printer, scanner, conference room and would like to socialize and bounce ideas off with other entrepreneurs?
Maybe you live in Cali but don't fancy the idea of renting your own office space? Even if you're just passing through and need a place to work from for a few days, then checking out one of the co-working spaces in Cali might be an option. It's a solution that's beginning to gain a lot of traction for digital nomads and small, local entrepreneurs all over the world, and Colombia is no exception.
The idea is to share a fully equipped office space with desks, chairs, WiFi, cafeteria, conference room, printers and projectors with like-minded people, without having to commit to long-term contracts, worry about cleaning the toilets, sweeping the floor and all the other boring stuff that comes with having your own space.
Discretely located in a nice villa in barrio Miraflores, Casa O offers everything you'd expect from a good co-working space. There are no flashy signs on the facade to indicate that you've showed up at the right address. Follow you intuition and ring the bell. Once inside, the office space reveals itself before you. The staff is smiling and you genuinely feel that they are happy to see you.
The house has several open office spaces, shared offices and even the option of renting a private office. There's a little outdoors patio where you can relax and the energy feels good. There's a conference room and kitchen available to clients as well.
I visited early, before anyone showed up for work, but I got the feeling that Casa O attracts some cool people – the kinds that are not too shy to stay for a beer after work.
Below are the different plans they offer. I'm pretty sure you'll like it!
The address is Carrera 23B # 3-56.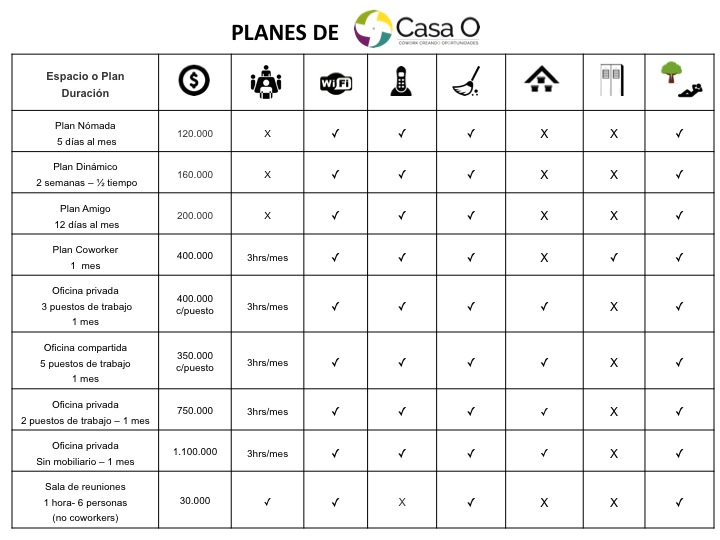 A precious retreat from the big city hustle, Casa Miraflores – also in barrio Miraflores – offers both co-working and co-living arrangements. The house is super well-decorated, full of good vibes and the people running it make you feel right at home. It attracts a bunch of digital nomads from all over the world, who seems to both work hard and play even harder.
Their services are free if you're staying at the hotel. Outsiders pay $20.000 pesos ($7 USD) per day to work from the premises.
Make sure to check it out!
I haven't had a chance to visit Kromaphono, which is located in downtown Cali. From what I've heard, it's a co-working space for creative souls. The place specializes in photography, sound recording, visual design, filmmaking and digital content creation. Supposedly, they have the facilities needed for the such production, like a photo studio, recording studio etc.
Looking at their Facebook page it also looks like they host a bunch of concerts and events on their rooftop terrace for the hip, artistic and creative Caleños. I can't wait to visit Kromaphono, and when I do, I'll make sure to update this post afterwards.
Is owned by an American and located in barrio San Antonio. They have computers, open office space and high-speed wifi available for each work station. Daily prices are $50.000 pesos ($16 USD) and monthly plans with unlimited access cost $350.000 ($116 USD).
Open every day from 8AM to 10PM.
If you find yourself anywhere else in the world, check out Sharedesk for local co-working options.
If you're just looking for a WiFi spot, the Juan Valdéz coffee shops all have a pretty good connections. So does CUUC and Cafelicious in Parque del Perro. The boulevard running along the river from the Hotel Intercontinental (above the tunnel) also have free public Wifi spots, although I wouldn't recommend that you bring you laptop there. That's called ¡dar papaya! and is rule #1 for living in Colombia – don't give anyone a reason to steal from you!