One of the things you've likely come to realize is the high level of contrast within Colombia, which seems to have every conceivable landscape known to us. I am talking about tropical coasts, Amazonian jungle, plains and wetlands, and even desserts that somehow found themselves nestled in the middle of all that. And then there is the stretch of land Colombia is most famous for, the Andes, which gives it a unique topographical layout (take an intercity bus and watch you head twirl on the journey). I lived high up in the mountains in Pasto for 8 months, the southernmost major city in the country in the department of Nariño, and what I believe to be one of the most missed out visits in the country.
Pasto lies in the Atriz Valley, under the glare of the Galeras Volcano, and has a long colonial heritage. Pasto and Cali actually share that kinship, in that they were founded a year apart by the Spanish conquistador Sebastián de Belalcázar. The Pastusos as they're called, have the unfortunate historical reference of being those people who stayed loyal to Spain during the Bolivarian revolution, which didn't exactly endear them to the rest of the country when history took its course. If you think about a group of people in your home that are the brunt of jokes, they might be your Pastusos.
How to get there
All that taken in, Pasto has flourished into a relatively self-sufficient city in Colombia and offers some great experiences for travelers going south of Cali. You can get to Pasto by bus or by plane, although the latter has a heavier cost due to the cities remoteness. I recommend a bus from the Cali terminal, which runs between 40,000-50,000 pesos, and lasts about 9 hours for the trip. Once there, you can jump off to several of the local sights which are all easily accessible from the city. And while you are there, you will enjoy the most economical prices for food, housing, and transportation that I encountered in Colombia. Dress for warm and cold weather, as the climate of the valley can be bipolar depending on the day.
Surrounded by gorgeous nature…
As the city sits at the foot of the Galeras volcano, there are several hikes around the perimeter that offer ways to explore the surrounding area. You can take one of the city buses to Genoy, which is an outlying neighborhood and from their hike up the north slope. Climbing up the mountain brings you to over 12,000 feet, where you can test your cardio endurance and think twice about that marathon you wanted to try out. Another option while you are there are the hot springs, where you can relax in warm, mineral-rich baths that emanate from the volcano itself. I have heard there are rock faces for bouldering along this stretch of the volcano as well but don't know much about them. If that interests you, definitely ask the locals where those can be found.
Moving away from the city proper, you can see the primary destination for many tourists that come to Pasto: La Laguna de La Cocha. Sitting over 2,600m above sea level, La Cocha is one of the largest lakes in Colombia and gives you a look at some of the Andean traditions of the region. You can catch a white taxi from the city that will take you to the village of El Encano on the north shore of the lake for between 6,000-21,000 pesos depending on how many passengers there are. Around the water, there is a rural community of farmers that live off the land, and the lake itself, which hosts a large population of rainbow trout. In the village, you will encounter tens of restaurants that serve it up in many forms. My personal favorite is the trucha al ajillo, which is baked trout bathed in a sweet garlic sauce from Restaurante Rancho Grande. Grab that with a beer and you will be in heaven.
The other necessity is taking a lancha – a small motorboat – out to the La Isla Corota, the island that sits on the north side of the lake. This is the smallest national park in the country, but it offers a trail system and a lovely view of the countryside from an observation deck. It gets chilly there even when the sun is out, so dress warmly for this one!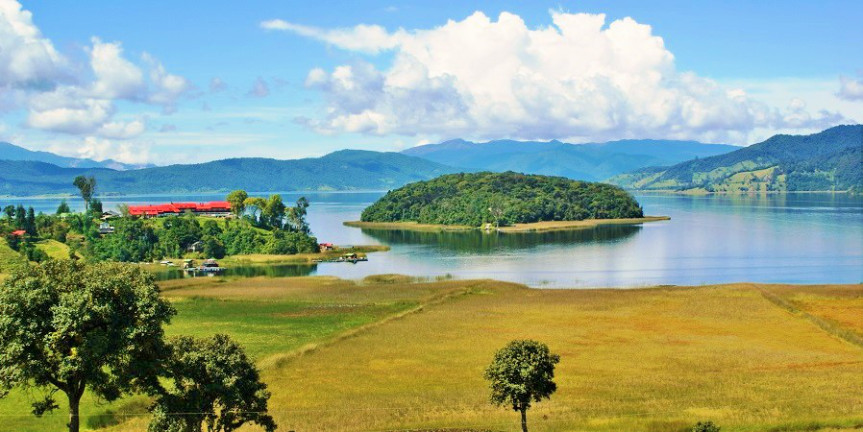 Ginea pig for lunch?
While you are in the city, food should be on your mind like any good tourist. This is where Pasto might leave its mark on you. Ask any Pastuso about food, and the question becomes: "Has probabdo cuy"? Have you tried guinea pig? If that sentence makes your chest tighten, you might be thinking about a childhood pet you had.
The guinea pig plays an important role in the Andean folk cultures of many South American indigenous groups, both culinary and spiritual. As a food source, it certainly falls under the exotic if you are a tourist, but it is recommended you give it a try if you can. People ask for a comparison, but I have not found one, other than saying it is saltier than any of the meats that you might normally eat. There are several restaurants that cater to it, and serve it with popcorn and lapingachos, which are delicious fried potato cakes. Keep in mind this is a specialty food, and will cost around $35,000 pesos depending on where you order it. On top of that, the Pastusos use aguardiente, the traditional Colombian liqueur, in a unique way. Mixing the aguardiente with pulp from fruits like blackberry, pineapple, and naranjilla, they create what is essentially a hot Andean sangria. It is excellent, and if anything, a glass or two will make you enjoy the guinea pig even more.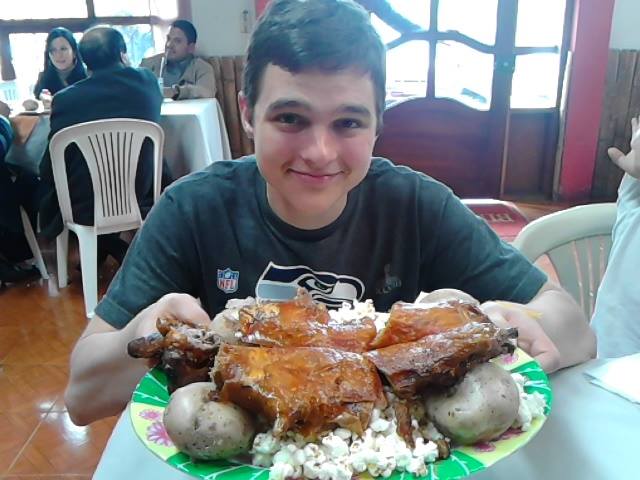 Two of the most highly rated restaurants are Tipicuy and Mi Pasto Lindo. Tipicuy has several locations, but both principal restaurants lie along Calle 18 which runs in front of the University of Nariño. As I mentioned, transportation is very cheap and taxis run on a flat rate, so getting there from where you are staying is easy and cost effective. As of 2016, the rate is $4,500 pesos.
Where to stay
Last but not least, where to stay while you are in Pasto. While the city is not as visited as others in the country, there are some great places to live comfortably during your trip. Full disclosure, I lived in a hostel my entire 8 months in Pasto, which was the Casa Hospedaje La Bohemia, located in the Aire Libre neighborhood near the city center. The owners are a Colombian lady, Monica, and her French husband, Anthony, who have lived in Pasto for some time, and transformed a multi-unit house into what I believe to be the nicest place to stay. It offers private rooms at affordable prices and is centrally located to everything you need as a visitor. Another option is the Koala Inn located in the city center two blocks from the main Plaza Nariño, which has been serving tourists since the early 90's.
Both of the hostels have between 15-20 beds, and prices range from 25,000 to 45,000 pesos depending on the room and amenities, although the Koala Inn has more shared dorm style rooms. They both have a common area with cable TV, shared bathrooms, optional laundry service, and of course Wi-Fi. La Bohemia has a stocked kitchen for guest use and offers more privacy since most of the rooms are single occupancy. One advantage I see the Koala Inn having is that it is more heavily trafficked by backpackers, so if you want to mingle with other travelers, that is the one you should check out.
(This is a guest post by my friend Doug Moscaret, an American who lived for 8 months in Pasto while teaching English and exploring the area. He feels that the city receives undeservedly little attention from tourists and would like to encourage anyone thinking about visiting. One thing Doug forgets to mention are the annual festivities, the Carnaval de Negros y Blancos, that takes place every year from January 2-7, which is supposed to be a blast!)